TRANSOFMRATIONS:
There are three different transformations that can be achieved when you possess all 7 Chaos Emeralds, and a certain number of Power Rings. Listed below is each of these forms and their effects.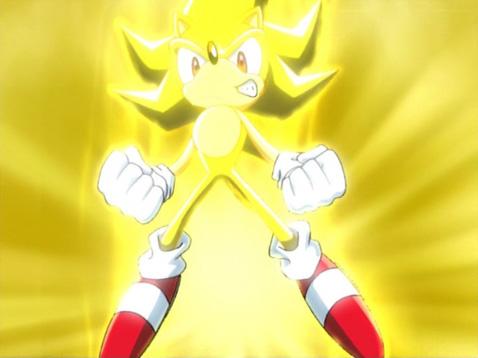 Super Form:
The most commonly seen transformation. Super Form is achieved by having a minimum of 50 power rings and it drains 1 power ring for each second the user is in this form. Collecting additional rings can prolong the transformation, but if their supply runs out, they revert to normal form. Super Form causes the user to glow brightly, as well as change into a different color. For Sonic, he changes to gold, instead of blue, Knuckles changes pink instead of red, Shadow changes platinum instead of black, and Tails changes yellow instead of orange, just to name some examples.
While in super form, the user can fly and is invulnerable to physical damage, although they can still be knocked around, even though it doesn't hurt them. They radiate such massive power, that even touching their body is enough to destroy common enemies who are blown away by their aura. In this form, the user can survive in hostile environments such as breathing in outer space, but if they revert to normal state, they'll be susceptible to them again.
Super Form also amplifies whatever powers the user may have had. Sonic, in his normal state, can travel fast enough to break the sound barrier, but while in super form, he can move at the speed of light.
Hyper Form:
This stage is very rarely seen and is achieved by collecting 1,000 power rings and drains 50 rings per second. If their ring supply falls to zero, they revert to normal. Hyper Form is identified by the user radiating a sparkling aura, and their body rapidly shifts through a random series of colors, instead of simply gaining a new one. Hyper Form is so powerful, it can actually damage Super Form. Hyper Form even further enhances the powers beyond what Super Form has already granted.
Ultra Form:
So rarely seen, it is believed to be a hoax. Ultra Form is achieved by collecting 1,000,000 Power Rings and drains 1,000 rings per second. If their ring supply drops to 0, they revert to normal. Ultra Form once again stabilizes the user into a single color, although different than Super Form. Sonic turns brown while in this form, for example. Ultra form pushes the user's powers to their absolute limitations. No matter how hard they train, they will never become more powerful than they are in Ultra Form. While in this form, they are so powerful they can effortlessly fight against Super Form enemies, and even Hyper Form requires a partner to help combat the user.